This post may contain affiliate links. If you buy something through one of those links, you won't pay any extra penny, but I'll get a small comission that encourages me to deliver more helpful contents for you. 
I am a budget traveler and every time when I used to research on my destination xyz I gave priority on topics like how to book Cheapest Flight to xyz, how to book Cheapest Hotel to xyz or how to travel xyz on a low budget etc. But I never thought (better say I had no idea about Travel Insurance) about what would happen if everything doesn't go according to my plan, if I need to cancel my trip suddenly or if I meet with an accident during traveling. There are several other possibilities that might happen at any time.
So what's the Solution? Travel Insurance – of which the most of the travelers don't have any idea or they tend to neglect it to save their budget.
What is Travel Insurance?
It is basically a plan, a traveler can purchase before traveling that protects him/her from certain financial risk and loses while traveling like medical expenses, baggage loss, sudden accident and many more.
Is Travel Insurance Compulsory?
Travel Insurance is not compulsory in most of the countries but I will recommend to buy a travel insurance to avoid any financial risk during traveling. However, countries like Austria, Belgium, Cuba, Denmark, Germany, Hungary, Iceland, Lithuania, Malta, Poland, Qatar, Russia, Netherlands, Finland, Sweden, Turkey and Switzerland(the list is fully comprehensive)
Why you need a Travel Insurance?
I am giving some real life example where we could save our money but failed due to not having any travel insurance.
Baggage Loss: In 2010, during my Ladakh trip in India I lost the main bag where I kept maximum amount of money including two credit cards. My another debit card saved me at that time.
Trip Cancellation: In 2012, I had to cancel my Thailand trip with friends due to sudden illness of my mother just before 9 days ago. Flight booking company and hotel company refunded me less than half of the total amount. I made a huge loss for not having any cancellation insurance.
Medical Evacuation: One of my traveler friend got a head injury badly during a trek in USA. He was bankrupt as he had no Travel Insurance and his health insurance was valid only to his own country. If he had evacuation insurance he might save a good amount of money.
There are many more incidents like these which can arise at any time of your traveling. Me and my friend could have avoid those loss if we had any travel insurance. Above all, to travel happily without any worry you should have a Travel Insurance.
When is Travel insurance Not Necessary?
There are certain cases when purchasing a Travel Insurance is just waste of money.
If you travel domestically then your Health Insurance Plan is enough to cover medical expenses.
When you do a short weekend trip just for 2-3 days. Though anything can happen at any time but if you have a tight budget you can skip travel insurance. In 2019, I suddenly planned a budget weekend trip to Buxa Dooars(India) for 3 nights where I went without any travel insurance.
If you don't have any prepaid and non refundable expenses of your trip then also you can avoid travel insurance.
Best Travel Insurance:
From my personal experience of 12 years of traveling (Started to use Travel Insurance from 2010) I can tell you that World Nomads is the Best Travel Insurance available with the cheaper price and value for money.
Reasons why you should choose World Nomads Travel Insurance:
The Cheapest Travel Insurance:
World Nomads insurance is the cheapest one with the best value for money that is available in market. If you search for the cheapest option you may have found other companies. But if you take a closer look of the factors covered in the insurance, there's never been a better option.
Easy to use website with Immediate Quote:
World Nomads insurance has a hassle free purchasing method with immediate quote available where you just need to give your information like your destination, your country of residence, travel start and end date with traveler's age to get the price of your insurance.
Get the best suitable quote for your next trip below:
Customizable Insurance Policy: You can customize your policy as per your requirement. You can add sports gear, electronic gadgets and personal items with item values in your quote.
Flexibility of their Policy:You can buy or add more cover even when you are traveling. During our Nepal visit I didn't have any plan about Bungee Jumping, but after going there I took the challenge of this adventure sports. I called the customer support team of World Nomads and informed about it. They modified  my insurance and I was good to go.
Coverage of World Nomads insurance: They have two popular plans for their customers: Standard Plan and Explorer Plan. There is not a huge difference between these two plans. Hence I will suggest to go for Explorer Plan from where you can take the maximum benefits for baggage and personal effects coverage. Here is a list of things World Nomads insurance covers:
Emergency medical expenses overseas
Medical transport and repatriation home
Accompanying person
Prescribed physiotherapy
Counselling services
Out of pocket expenses in hospital
Emergency dental treatment
Local funeral expenses and repatriation
Pre-trip cancellation
Trip interruption or curtailment
Additional expenses
Trip resumption
Personal accident
Student loan and credit repayment
Travel disruption
Missed connection
Natural catastrophe
Hijack
Baggage
Money
Personal liability
Rental car excess
Replacement of rental car keys
Customer Service:  World Nomads insurance has an awesome customer support team available 24/7. You won't face any problem with their customer support. In 2016 while I was on my budget Switzerland trip I got sick at a remote location. I was feeling lost about where to seek medical treatment. I contacted with the customer support team and they recommended me a clinic near my place and I had a good experience with the clinic.
Read also: How to Plan a Budget Trip to Bhutan with Full Itinerary and Cost Breakup
Claim Settlement: World Nomads has a good claim settlement ratio. I have claimed total two claims and each one was settled, but the process takes a while and this is normal for any kind of insurance. You have to download online claim settlement form and have to fill it. Additionally you need to submit documents like hotel and flight booking receipts, doctor receipt, credit card statements. You may have to call several times to complete all paperwork from your end. Generally it takes 1-2 months to settle a claim in World Nomads. You can also check this amazing article on 'Best Travel Insurance in Bali' if you are planning for a Bali trip.
Cons of World Nomads:
Frankly speaking I didn't find any cons of World Nomads insurance after using it for more than 5 years. Only 2 things I want to mention:
World Nomads has no official mobile app like other useful Travel apps.
Their upper age limit is 70 for certain products which they can improve.
Pro Tips while choosing Travel Insurance:
Be honest with your travel insurance company. If you plan to go for bungee jumping, then don't pretend that is just a mountain travel with family. If anything happens due to bungee jumping, no insurance company will cover you.
Research properly before buying any insurance. Compare the price and coverage details before buying any. Check if you already have any travel insurance. If you want to add some extra cover then compare the price between your owned insurance and World Nomads, then choose the best one.
Read the terms and conditions properly. Don't buy a travel insurance when you are in hurry.
Call the travel insurance company directly and don't be ashamed to ask if you have a single doubt.
When you claim for any loss or medical treatment you have to submit the related documents to settle it. Always remember to take a photo of your doctor's receipt, medication bill or any police report for any loss.
Call the travel insurance company and ask what is covered and specially what is not covered.
Click on the below link to get your Travel Insurance from World Nomads: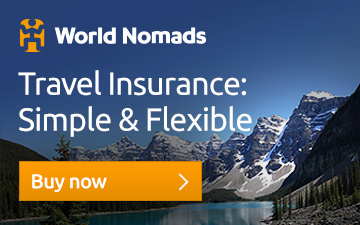 As I have already said that I am a budget traveler and always want to save some money wherever it is possible, but I never neglected travel insurance after facing some serious financial risks. After all, health should be always the top priority.
You will find several other travel insurance companies(even cheaper than World Nomads) but after researching a lot I always keep my faith on World Nomads Travel Insurance for the last 5 years and I am fully satisfied with it for its best value in cheaper price.
If you have any question you can comment below or if you already used World Nomads Insurance then share your positive or negative feedback in comments section. I would love to hear from you.
Happy Traveling… 🙂